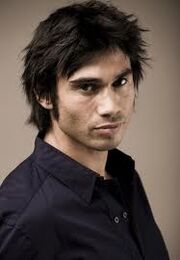 TK Samuels is a doctor at Shortland Street hospital and is currently working in ED.
TK first came to Shortland Street after his international backpacking trip. He stayed at Craig and Huia's house and later found out that he had caught the eyes of Craig's daughter, Scarlett. Soon after, TK found himself starting a new job at the hospital as a ED worker.
Sarah Potts was unempressed with TK at first but then they started having a relationship and then married later. They were expecting a child together, but due to Sarah's MS the fetus had to be terminated. Sarah and TK seperated in 2009 at around christmas time.
Due to their seperation, TK found himself sleeping with Brooke Freeman. This didn't last very long and they later broke up. In around this time, Sarah moved away to Boston.
While Sarah was away in Boston TK decided it was time he moved on aswell and started becoming fond of Jennifer Maison, who was a working surgeon at the hospital. Once again, their relationship didn't last very long as well.
During 2011 TK found himself falling for Roimata Ngatai, who was a new ED nurse. But just as everythign was going smoothly between the new couple, Sarah arrived back from Boston pregnant with TK's baby. This caused a problem between the two, but they fought and stayed together. On Roimata and TK's wedding day, Sarah went into labor. TK was determined to be at his childs birth and left their wedding in order to be there with Sarah. Sarah ended up having the baby, leaving Roimata unmarried. On the same day, TK also saved Hunter McKay from his burning car.
Not long after the birth of Tilly (Sarah and TK's baby), Sarah ended up going into rehab caused TK to become a full time caregiver to Tilly. TK and Roimata were then, finally, married in the Bay of Islands.
TK Samuels is portrayed by Ben Mitchell.