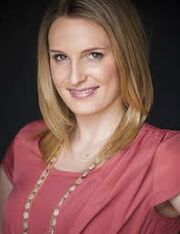 Bree Hamilton, sister of Brooke Freeman, was a surgeon working at Shortland Street Hospital. Bree is in her twenties and is a year younger than Brooke.
Bree was giving away as her mother was struggling to deal with her alcohol addiction. Bree had lived in four foster families before ending up in Otago and attending Medical School.
Bree is incredibly self concious as she is constantly reminded that she wasn't wanted as a child. She is also very warm and caring person and is 'eager to be liked'.
When Bree's adoptive mother passed away she went to search for her biological mother. When she found out that she had a half sister called Brooke she immediatly wanted to go and meet her.
When she met Brooke she figured out that she was a very hard person to get a long with and currently have a very uneasy relationship going on.
With the help of Brooke's boyfriend, at the time, Vinnie Kruse she ended up getting a job at Shortland Street. Vinnie and Brooke ended there realationship and then Bree and Vinnie started dating each other.
Bree Hamilton is played by Rachel Blampied.